SOUTH AFRICAN
MUSIC AWARDS
Piet Botha received a SAMA Lifetime Achievement Award at the 12th Annual MTN SA Music Awards at the Sun City Superbowl on 6th May 2006.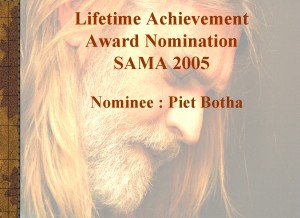 Lifetime Achievement Award Nomination (1MB)

Nomination for a Special Award

"This award goes to individuals who have made a unique and outstanding contribution to the growth, success and sustainability of the recording industry over a number of years.

We hereby petition you to consider Piet Botha for this Award for his outstanding contribution to the music industry in South Africa as a whole!"

Click on the image above to open a Powerpoint Presentation. Windows Internet Explorer is a Powerpoint reader, so you don't need to have Powerpoint installed to be able to see this. Click on the pages or use the arrow keys on your keyboard to move through the presentation.
---
"One thing I have to say
I'm not sorry
This road that I've been on
Trust me I got nothing
but a burned-out soul
And this old guitar."
-- River Of Love,
Piet Botha 2002
---