News 14 June 2009
Posted by Piet Botha
Time keeps on slipping…
Thanks to all for making this this such a wonderful year. We have had the most amazing gigs and now it's June. July 18th is the Jamboree and we hope to celebrate 25 years of Jack Hammer history in style.
Most of the players have been found , so it should be quite a reunion.
From the very first Jack Hammer line-up (Boet Faber, Eric Birckenstock, Maloney and Piet ) to the present.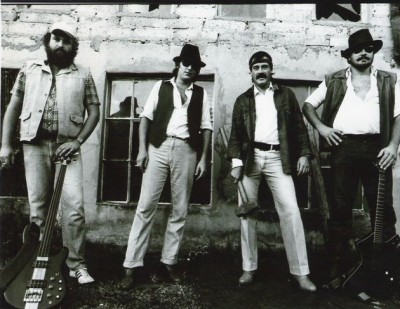 From the archives: Jack Hammer 1984
L-to-R: Eric Birckenstock, Piet Botha, Jan Maloney, Boet Faber
First rehearsals at Slowfarm
More historic pictures here ...
When we do the songs from "Ghosts on the Wind" the band will be the same as the time we did the album. Findlay Malherbe on drums, Deacon on bass, David Codling on guitar …
When we play songs from "Death of a Gypsy", Duke on drums, Lanie vd Walt on guitar, Deacon on bass…. "Anthology" will introduce Beano on bass, Johnathan Martin on guitar and vocals, Duke on drums.
"Suitcase vol Winter" will have Jorik Pienaar on drums.
"The United Wolmer Brothers Showband" will feature the infamous Van Der Walt brothers ( Lanie, Tonie, Chris and Heine) , myself, Jorik Pienaar on drums and Van Horn (Leon van Zweel) on saxophone..
On the acoustic stage we will feature Jack Hammer "Unplugged" as well as some guest artists like The Allen Wood Project, The Good Old Boys, Stean vd Walt and more.
Paul Barnard, Leon van Zweel, Karlien van Niekerk, Mervyn Davis, Deon Maree, Siya Makuzeni, Jacob Wulana, Samuel Shoai, Schalk vd Merwe , Andy Stephenson and other wonderful musicians will join us at any given time to celebrate 25 years of music under the Jack Hammer banner…
Friends who cannot be there will be remembered … Doc Barendse, Henry Jackson, Paul Vantoon, Len Hefer, Dave Tarr, Ken E Henson, St Adrian and all the ghosts upon the road…
This is a special gig and we hope to have all our friends there. It is impossible to name all the people that have kept Jack Hammer on the road thru the years but we will try to pay respect to one and all thru the music.
For the last few years we have to thank Mike Joubert and Alistair King for their unwavering support to help us to make albums that we believed in. So we are ready and willing to carry on. Special thanks to Deon van Niekerk and all at Select Music Distribution for getting the catalogue up and running.
Moonshine Lee and Brian Currin. Hein and Christine Waschefort. Annalise and Carl.
Kalie Kirsten and family at Goedvertrouw Farm. Charl Barry, Fritz James, Frans and Linda Human, everybody in southern Mocambique, Dick and Annie from NudiDivers, everybody from the subterranean world, Barry and Jackie Frey, Doc Frey, Charlene Mckenzie, Brian McKenzie, Josè and Chrisna , Konrad and Lisa … Mariana Malan, Carina Laubscher, Dirk Jordaan, Ronel Nel, Evan Milton, Andy Darlington, Richard Jones,
these are but a few of the people we have to thank for keeping the faith.
I am sure we have missed many names and dates and thanks to be given but you know who you are and from our vagabond hearts we thank you.
The Jamboree will start at 3pm on July 18th, with two stages … electric stage inside and acoustic stage outside… the sets will alternate between the two.
For bookings please ball Cafè Barcelona 012 3453602 or mail to: info@cafebarcelona.co.za.
---
News - March 2009
Posted by Piet Botha, 21 March 2009
...better late than never... 

My sincere apologies for the terrible admin...the road is to blame... 

This year we are celebrating the 25th anniversary of  the Jack Hammer Band.
There will be a Jamboree on the 18th of July at Café Barcelona and many of the musicians who were part of the band will be performing as well as some of our brothers. 

So far this year has been very exciting.We were lucky to be invited to the "Up the Creek" festival near Swellendam and it was wonderful to play and to see so many of our dear friends there.Thanks to Jacques and Jacques for the trip to and fro from Cape Town.We managed to drive there thru lightning and thunder via Hermanus, but we got there just the same. 

At the end of February we were very fortunate to be invited to Namibia. We played four nights in Windhoek at the Warehouse Theatre and would like to thank Ernst Herma and all the crew and staff  for making our stay so memorable. 

On the home front we have been working the Acoustic Sundays at The Blue Flame for almost a year now and it has turned into a beautiful gig...every Sunday in the Garden.
Also great vibes at Steak and Ale, Tings and Times and Café Barcelona. In Boksburg we have had a rip at the Knight and Dragon, thanks to bra Fritz and all the crew there, young Johnathan for doing the sound and the wonderful guest bands like The Whining Orphans. 

This week myself, Moonshine Lee and Johno are off to Mocambique for the FORR Launch Party.
Many thanks to Frans and Linda Human for the brilliant idea and to Annie and Dick at Nudi Divers for the training.Great new adventures await. 

"Suitcase vol Winter" has been remastered and due for re-release early in April.
To celebrate  25 years on the road we are releasing a compilation album "Road Works 1984-2009" by June. This will contain songs from all the Jack Hammer albums.
"The Pilgrim" should also see a new release in a new jacket sooner than later. Many thanks to Deon van Niekerk and all at Select Music Distribution. 

Many thanks to Mike Joubert and Alistair King for all the support and faith.
Also very special thanks to Francois Friend.

And of course to Brian Currin. 

Hope to see you soon at a gig, thank you for friendship and support!
Love and Respect, Piet.
---
Jack Hammer Jamboree
Celebrating 25 Years on the Rock 'n Roll Highway
Posted by Moonshine Lee, February 2009
Hi All,
This year sees Jack Hammer celebrate its 25th anniversary on the Rock n Roll Highway and to celebrate we are hosting the Jack Hammer Jamboree on 18th July 2009 (Piet's birthday) at Cafe Barcelona. The idea is to start at about 3pm in the afternoon and have a carnival type vibe with tables & chairs outside etc. Jose will close off the area with screens and will serve pub grub i.e. hamburgers, pregos etc.
Piet has requested that the line up for the day consist of musos that have played with Jack Hammer at any stage throughout the past 25 years. PLEASE book this date in your diaries and contact Moonshine on moon@jackhammer.co.za to discuss the program etc. Please think about the songs and the line up you want to play with on the day so we can start putting a play list & line up etc. together.
Look forward to hearing from you
Rock n Rock!
"He who shouts loudly will surely be heard,
but a whisper cannot be ignored.... "
---
Jack Hammer .... new year, new tunes
Posted by Brian Currin, 27th January 2008
Piet Botha and Jack Hammer will be recording a new album, "Highway 13", in March and April 2008. There is a specific thread that runs through the whole album, as suggested by the title track. Most of the new songs will be heard live when Piet Botha and his longtime associate Johnathan Martin tour the Cape on a hectic ten days, 9 gigs excursion in mid February. Piet said: "We want to really play the new material into shape before April, as we would like to actually launch in Mozambique at the Strab Festival, end of May". (www.strab.co.za).

The new album has been a while coming. "After 'Pilgrim' it was time to let the sound and style of the band regenerate by itself and sometimes this takes a bit of time because it's not a tangible thing that you can manipulate", Botha tried to explain, "hopefully we have achieved that by going against the mainstream, as per usual, but the deeper you go the more soul you will find."

Some of the new titles are "Rearview mirror", "Highway 13", "This song is old now", "Stay at the wheel", "Mr Midnite", "Jozi Town" and "The Devil's House". Old favourites will be available in their extended repertoire for the Cape Tour.
---
See gigs page for info »»»
Please subscribe to our mailing list to get gig info, news updates and more.